Roxana Rogobete participated in The Future of Higher Education – Bologna Process Researchers' Conference (FOHE-BPRC4), in Bucharest, Romania, on 30 January 2020, and presented the paper Digitalisation paths: a case study of Eastern European initiatives in e-research (co-authored with Mădălina Chitez and Alexandru Foitoș).
Abstract
The emergence of digital technologies has been changing the landscape of higher education across Europe, challenging both decision-makers, academic staff and students. Priorities in digitalisation strategies for universities (White Paper 'Bologna Digital 2020', Rampelt et al. 2019) are actively promoted and their implementation is in progress Europe-wide. Their focus lies primarily on digital skill acquisition by student learners and teachers with an impact on mobility processes and the quality of the educational offer at the universities. In this context, e-research, i.e. research using or resulting in digital methods and tools, deserves special attention as it faces a variety of extra challenges that are either strategic in nature (e.g. insufficient funding), discipline-specific (e.g. classic Humanities versus science disciplines) or culture-dependent (i.e. preference for traditional methods in particular national educational systems). Moreover, the embedding of the digitalisation reform at the institutional level is considerably uneven from one country to another, with Eastern European countries lagging behind, as numerous studies related to education (Conrads et al. 2017) and business (SEEDIG 2018 Survey; Razvadauskas 2018) indicate: no country from the region is situated among the top players in emerging digital technologies (OECD Measuring the Digital Transformation 2019).
The aim of this paper is to present and discuss high-impact initiatives in e-research (e.g. Digital Humanities) in HEIs in Eastern Europe while summarizing their compatibility with the goals presented in the White Paper 'Bologna Digital 2020'. We further exemplify the process of developing an e-research centre by presenting, assessing and placing in international context the recently created research centre CODHUS, from the West University of Timișoara, Romania, one of the few Digital Humanities centres in the region. The new initiative incorporates complex digital-method-related algorithms for developing technology-based solutions and digital tools for research, course development and assessment, in order to bridge the gap between teaching strategies and goals, on one hand, and students' digital experiences and expectations from HEI, on the other.
Snapshot of first slide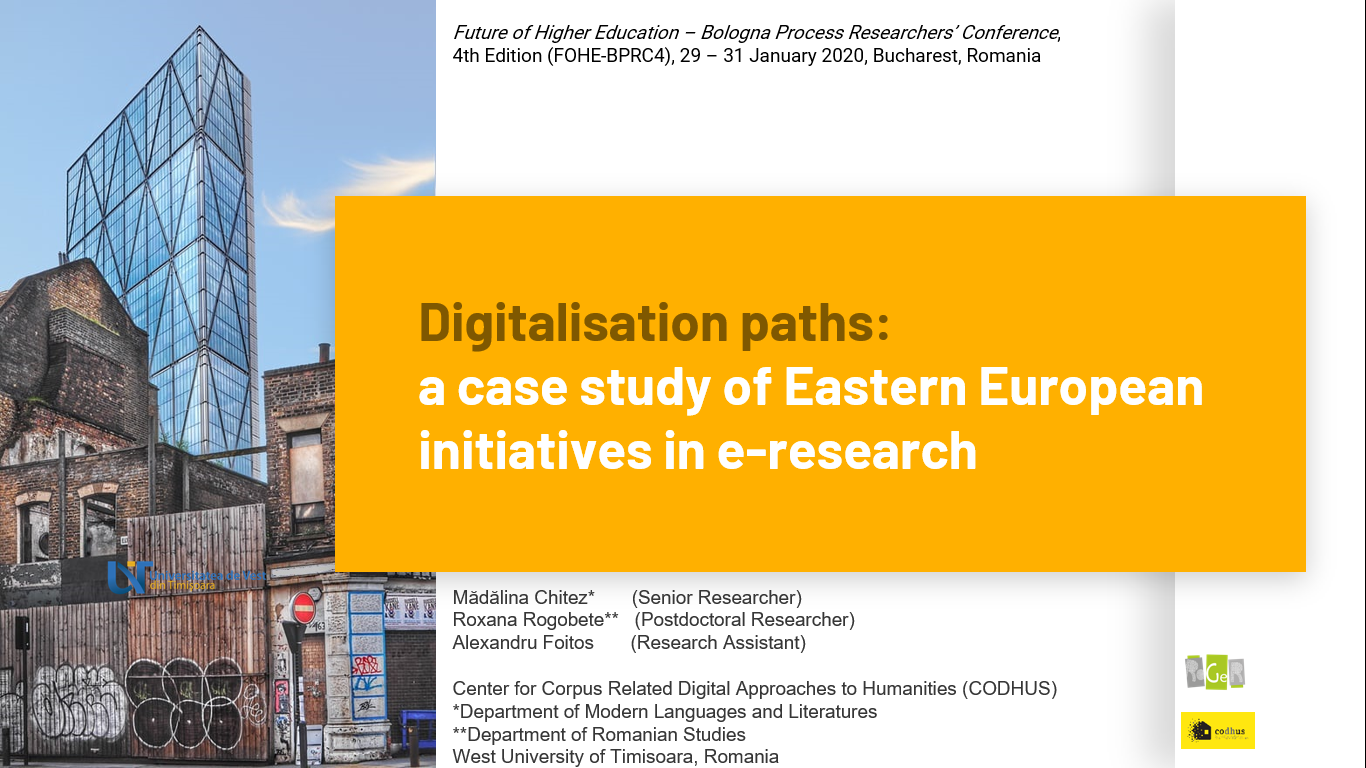 Presentation excerpts: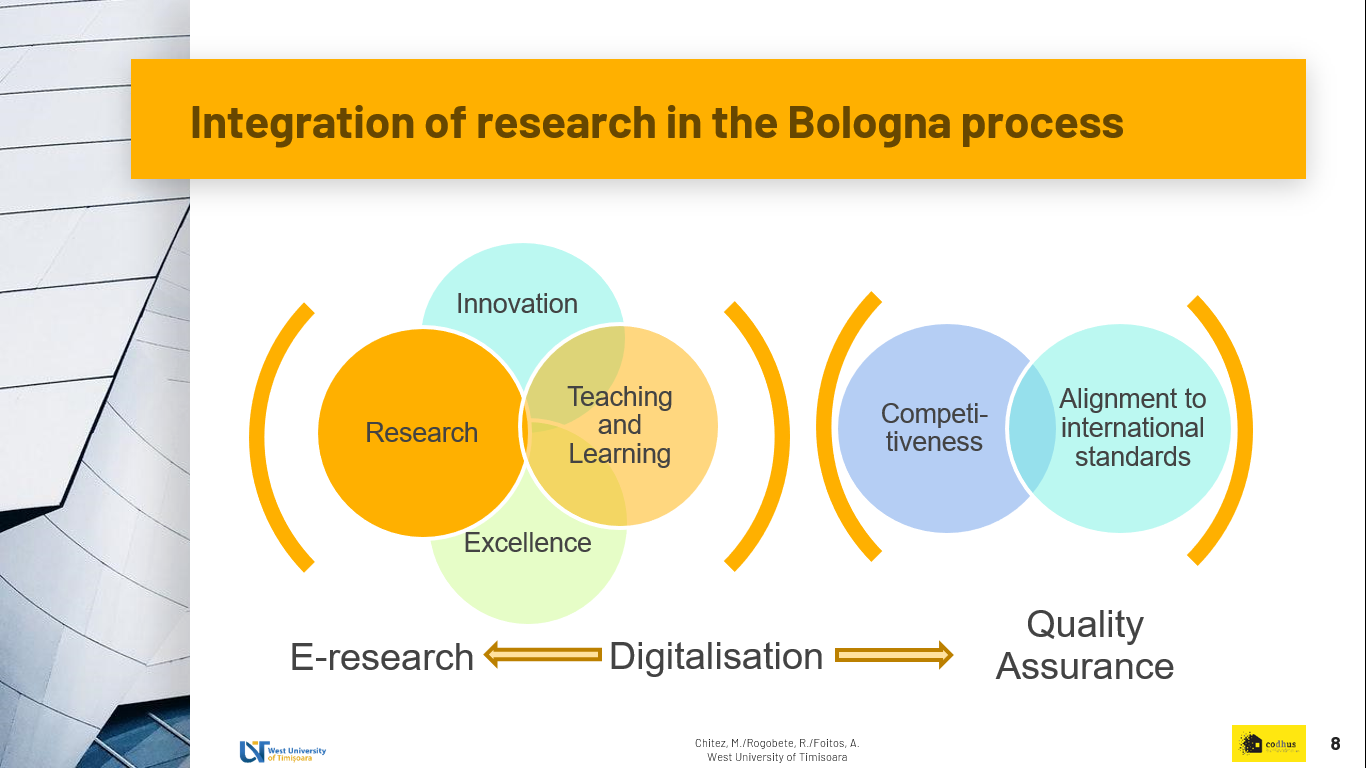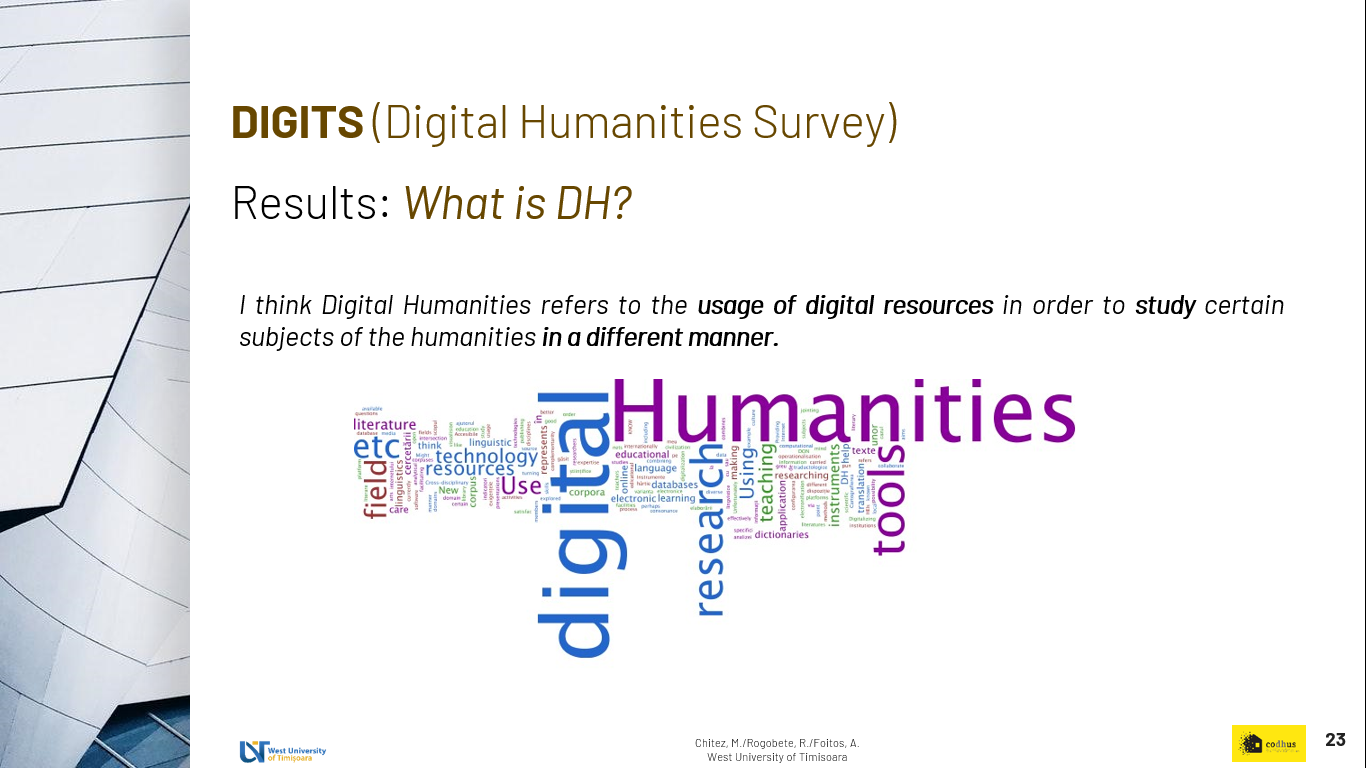 More information about FOHE-BPRC4 conference here.
Impressions:
The conference gathered scholars and policy makers from Romania, Germany, UK, Austria, Hungary, The Netherlands, Spain, Turkey, Armenia, US etc., and included five parallel sessions: (1) Furthering the internationalization of higher education: particular challenges in the EHEA; (2) Access and success for every learner in higher education; (3) Advancing learning and teaching in the EHEA: innovation, links with research, and cooperation with the ERA; (4) The future of EHEA – principles, challenges and ways forward; (5) Bologna Process in the global higher education arena. Going digital? It was a great opportunity to present CODHUS's activities and to learn about future strategies of the whole Bologna Process.
Photos from the conference: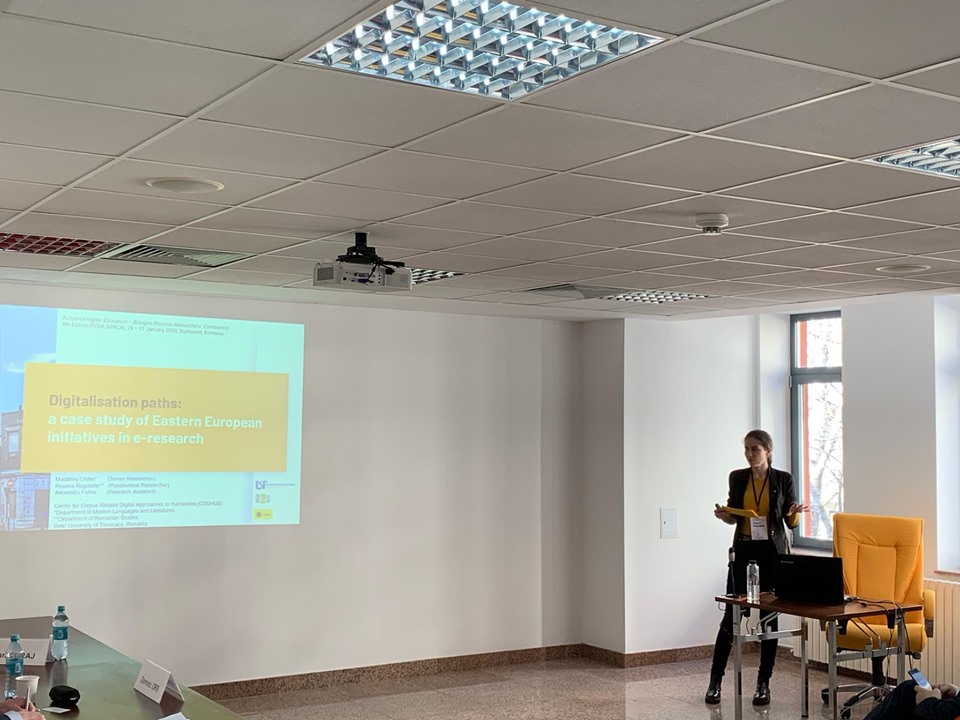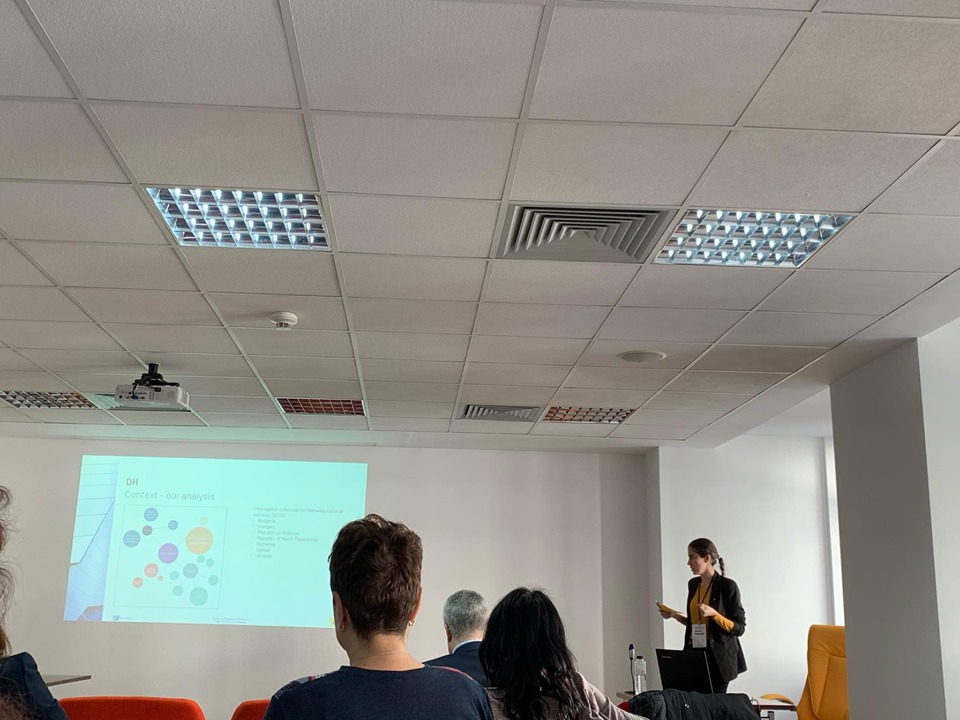 (Photo credits: Vlad Cherecheș)