On 29 November 2021, a new lecture from the Romanian Diaspora@WUT Guest Lectures/Workshop series took place at the Faculty of Letters, History and Theology. The event is part of an initiative developed by the Department of International Relations and was made possible by the Centre for Corpus Related Digital Approaches to Humanities (CODHUS). The speaker invited for this session was Prof. Dr. Dragoș Ciobanu, Professor of Computational Terminology and Machine Translation from the Centre of Translation Studies, University of Vienna. The lecture's title was Artificial Intelligence in the service of terminologists and translators, and was moderated by Dr habil Madalina Chitez, director of CODHUS.
Members of LIT (teaching staff and researchers) and of the wider academic community from Timisoara (and not only) participated in the lecture, along with students interested in the topics discussed: from resources for research and information, machine translation tools, to available open-courses, former developed projects and possible joint initiatives.
With a rich experience in the use of digital instruments in translation and speech recognition, Prof. Dr. Dragoș Ciobanu obtained his PhD in corpus linguistics in 2006 at the University of Leeds, institution with which he collaborated until 2020. Since October 2020 he is a Professor at the Department of Translation Studies at the University of Vienna and coordinates the HAITrans Research Group (https://haitrans.univie.ac.at/).
More about Prof. Dr. Dragoș Ciobanu here.
More about CODHUS here.
More about the initiative of our Department of International Relations here.
The poster of the event: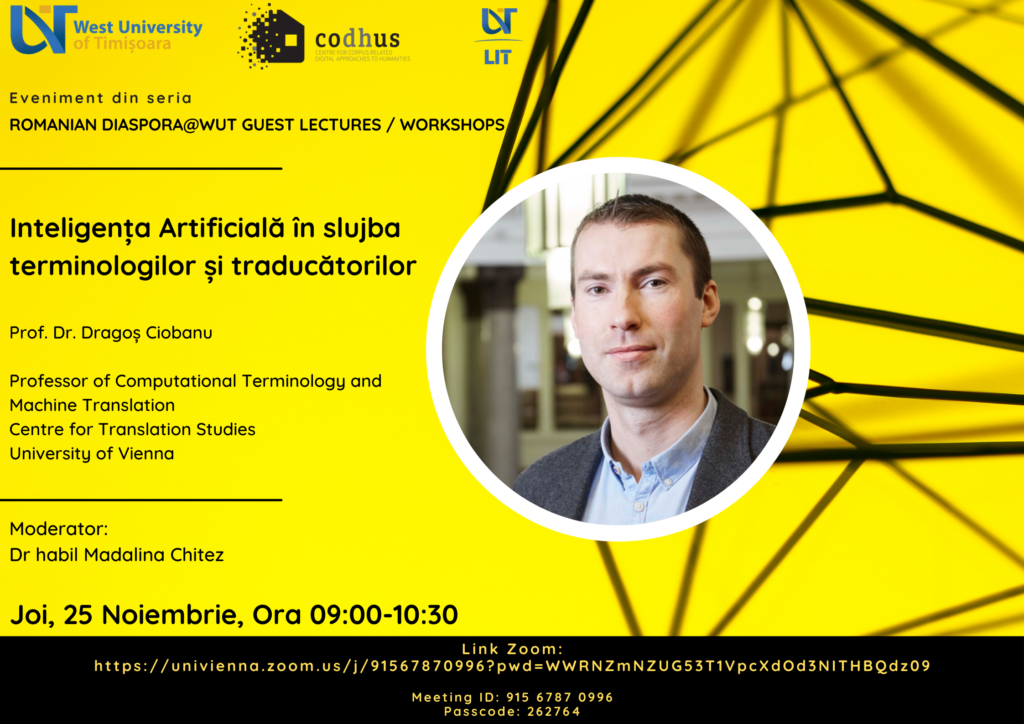 Screenshots from the event: