16th – 19th August 2022, conference presentation at EUROCALL 2022: Intelligent CALL, granular systems and learner data, The Vigdís Finnbogadóttir Institute for Foreign Languages, the University of Iceland, and the Árni Magnússon Institute for Icelandic Studies, Reykjavik, Iceland
The ROGER and CODHUS team members were present at the EUROCALL 2022 Conference, held on 16–19 August 2022 as a fully online event. Alexandru Oravițan, Mădălina Chitez, Loredana Bercuci and Roxana Rogobete delivered the paper titled A Teacher's Guide to Using Corpora to Improve Learner Academic Writing: Bilingual Corpus Applications.
Abstract: Learner academic corpora provide a practical resource for students, particularly in assimilating academic writing practices. One such corpus is the newly available ROGER (Corpus of Romanian Academic Genres), a bilingual comparable corpus containing learner discipline-specific writing data in Romanian L1 and English L2. This presentation aims to illustrate a series of academic writing teaching practices based on using the ROGER platform (launched in May 2022) by showcasing the benefits of various bilingual corpus applications. This presentation serves as a pedagogical model to be applied within a research-based academic writing classroom setting.
Keywords: academic writing, bilingual corpus, corpus-based teaching, learner corpora.
Presentation excerpts: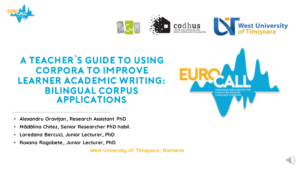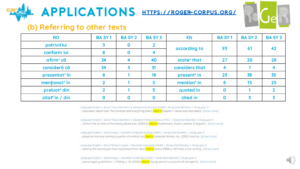 More information about the conference here.
Full presentation can be viewed here.